Most of the web-owners or developers do prefer Linux servers because of their pace, reliability, security and free operating system, along with an outstanding software ecosystem. Even after all these positives, Linux doesn't prove to be the right system for everyone. As in some cases or projects to be particular, there are websites and apps based specifically on Microsoft technologies like .NET and ASP.NET. Or for some projects any developer or a web owner is willing to run Exchange, Microsoft SQL server or some other Microsoft stack product, they do choose a cheap Windows hosting server plan.
But, Microsoft hosting doesn't limit you to Microsoft products. Most of the providers and the plans do offer one-click installations of popular apps like WordPress, Joomla, PrestaShop, php88 and more. Though you might feel the lack of cPanel, but the control panels like Plesk definitely come in as a handy replacement to alter settings, create email accounts and manage other things related to your account. 
Like its positives, Windows hosting has its negatives as well. As you won't get the number of choices of applications compatible with Windows hosting as you get with Linux, and there is also a slightly less number of assistance or help for that matter to troubleshoot apps like WordPress on Windows. Not to forget about the Microsoft license fees to be paid, this makes it slightly expensive as compared to Linux. 
But, if you consider it as an overall package then you can certainly take ample advantage of Microsoft as a platform. Windows hosting can be of great help with its services at a comparatively low price point. 
Continue reading to go through the profiles of the top five hosting providers that you would definitely want to consider for your Windows hosting servers. 
# 1 Go Daddy
GoDaddy's Windows hosting plans have a big plus when it comes to the price tag. They offer both Linux hosting and Windows hosting at the same price, and that does make a huge difference as in general providers ask for an additional cost when it comes to Windows hosting. Their starter plan starts at Rs.99/mo (If you go for a three-year contract),  and at that price, you get one website, unlimited bandwidth, 30GB storage, and a free 1-click WordPress install. Along with it If you opt for annual plans then you even get unlimited bandwidth, a free domain, and usage of Outlook 365 for a year. But, their backup & restore facility is a paid option. From this basic starter if you look at their ultimate plan most of the limits of the starter plans are lifted with unlimited websites to host, Unlimited or as they say unmetered storage, Unlimited bandwidth, Unlimited MySQL(1GB each) and MSSQL(200MB each). The one thing they offer as an add-on in the ultimate plan is a 1-year SSL certificate. This though is a big miss for a company of GoDaddy's stature as other providers provide SSL certificate with even the basic or the cheap Windows hosting plans.
So, GoDaddy's brand name and their quality customer support do come in handy, and with the price policy which differentiates its Windows hosting platform to the rest of the providers but the limits that they have restricted their starter plan with, is a big turn down for most of the customers.  
GoDaddy Windows hosting Plans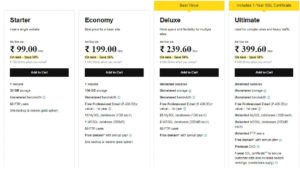 # 2 Hostgator
Most of the hosting providers offer only limited options with Windows. There is a majority of them who provide Windows platform only with dedicated servers which becomes a huge issue for customers looking for an upgrade or downgrade their hosting platforms after the time being or as and when required. In such an instance customers do look for providers which offer a sense of flexibility with the plans and options.
Hostgator is one of the hosting providers with Windows plans to cover personal as well as business-friendly shared hosting. The company even offers Windows dedicated server hosting plans which is a huge plus point with the robustness of dedicated servers and trust of Microsoft on offer. Now, if you look into the list of features of Windows shared hosting plan then at the 143/mo price tag, the features they offer in their starter plan include, single domain to host, 10GB of disk space, latest Plesk panel as the control panel, one-click script installation, free SSL certificate, unmetered bandwidth, Unlimited MySQL and MSSQl and cloud flare CDN plugin. On the other hand, if you look at their top-level Enterprise plan then with the price tag of Rs.279/mo you get to host 5 domains, unmetered disk space, Unlimited email accounts, Free upgrade to positive SSL, free dedicated IP besides the feature offered in the starter plan.
# 3 BigRock
BigRock does make a mark on the price point but there are certain things that they have limited with their starter plan that may disappoint any customer looking for a quality and feature-loaded Windows web hosting plan. The major bonus here is the Rs.59/mo price point. But the limitations with 20GB disk space, 100GB bandwidth or transfer as they say, and only 5 emails to go with. Contrary to this they do offer unmetered space and transfer and unlimited emails with all the remaining plans. All this also comes with the security of free SSL with all the plans on offers. BigRock also provides Windows hosting with dedicated servers, which does provide a sense of flexibility to the customers.
So, when it comes to BigRock's windows hosting services they do have ample restrictions with the plans yet the quality of the service they provide gives a sense of comfort for the customers to go with the brand name of BigRock as a matter of trust.
# 4 ResellerClub
With ResellerClub the major issue is, the name itself puts the customers in a dilemma of whether this provider offers only reseller hosting. But, if you go through the offered plans and platforms then you'll be affirmed to say that this hosting provider has to be on anyone's list, as a hosting option for websites or web applications.
When it comes to ResellerClub's Windows hosting platform then there are certain pros and cons to consider before opting for any of the plans they offer.  The major positive for a customer to consider ResellerClub's Windows hosting is their unmetered disk space and data transfer along with unlimited email accounts with all their plans. In this way, their basic or the personal plan is the one which many can consider. But the major downside is the limit to the domains, as you can host only a single domain like other providers with the personal plan at Rs.235/mo and 10 with the pro plan at Rs. 505/mo. But the trust point of the Reseller club with their customer support and the Free SSL on offer with every plan does compensate.
#5 MilesWeb
MilesWeb is yet another Windows web hosting provider. Even if the company is still 8 years old in the hosting sector, but the buzz that they have made has definitely led everyone to consider them as a remarkable hosting provider, and honestly speaking it is my favorite of the lot. They offer Windows hosting for all variants right from the basic Windows shared hosting to best Windows VPS and Windows reseller hosting as well.
Windows shared hosting by MilesWeb starts with the entry-level Tyro plan at Rs.40/mo (if opted for a three-year subscription). At this price point, the provider offers unlimited bandwidth, free SSL, a website builder, WordPress optimization and 3 MySQL DB's. But, like other hosting providers even MilesWeb disappoints with restrictions of some features in the basic Tyro plan as you are restricted to host only 1 Website, 10 free email accounts and 1GB SSD disk space. But still, the point to be noted here is the availability of SSD hard drives with flash technology. Now, if you look into their top-level Turbo plan then you definitely will be as impressed as I am. With the Turbo plan at Rs.170/mo including the entire range of unlimited features available MilesWeb does offer the freedom to host unlimited websites, unlimited email accounts, unlimited SSD disk space, unlimited bandwidth and unlimited MySQL DB's. Not to forget here is that the company also offers 1 free domain and a free SSL certificate with all the plans.
With all these points to consider, anyone who is looking for a Windows hosting provider should consider MilesWeb as one of the top yet cheapest Windows hosting providers on the list.
MilesWeb Windows hosting plans
The Verdict
If you've been through the whole article then you might have made your decision to go with the one which provides services and features that best suits your needs. After all, it is your investment that you must properly think of, and invest it wisely. I've just tried to put my honest opinion on the top service providers in the industry. Rest is all up to you.